Last Updated: April 21, 2022
Study in South America
South America is one of the less popular study destinations for international students. But at the same time, this continent has been gaining a lot of attention from international students for the increasing number of degrees and quality education they are providing. The countries and universities here have a diverse culture and topography that is unique to them.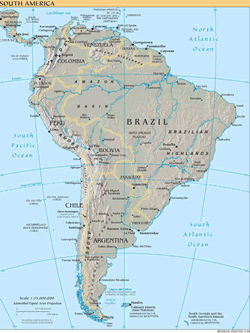 Along with countries like Brazil, Argentina, Chile, etc. which have a large landmass, South America also includes places like Venezuela, Trinidad, and Tobago all of which are must-visit tourist destinations. These are study destinations for people who do not wish to live in crowded cities and for those who wish to learn a new culture by immersing themselves in the country.
The rich mineral resources such as silver, gold, petroleum, iron ore, and copper found across the continent are considered to be the continent's wealth leading to employment as well as helping the economy. This also makes it an ideal spot for students who wish to learn geology, geoscience, and earth science. The South American forests are also a place of interest among students due to the large biodiversity it holds. Students will be able to take up programs in zoology, botany, etc. to be conservationists and naturalists eventually.
It can prove to be an exciting place to study due to its natural beauty and the people who considered being very warm. A mix of bustling cities along with lush rainforests provides scope for both learning and leisure.
Master's Level Programs in South America
A few of the most popular master's programs in South America include-
Masters in Editorial Design at IED, University of Sao Paulo, Brazil- This course has been designed for those who are interested in the publishing business. The program will train them to work with both skill and creativity.
CEMS Master's in International Management , Colombia- CEMS is an alliance of business schools, companies, and NGOs that offer this particular course. The highlight of the course is that it is a pre-experience postgraduate degree and is open to multilingual students allowing them to study at a different school for a semester.
Master of Environmental Management at Universidad de Los Andes , Colombia - This course is taught in Spanish and focuses on increasing awareness of environmental preservation. It is specifically designed for students who are interested in working in organizations for environmental conservation.
Master in Jewellery Design (IED) Istituto Europeo di Design at Sao Paulo , Brazil- This course has been structured based on the aspects of business management and strategies involved in the jewelry design field. The course also includes other components like accessories, handbags, etc.
Master in Luxury and Fashion Management - Istituto Europeo di Design, Sao Paulo, Brazil- This course is offered in partnership with Newton Management Innovation, and is a mix of visits to major companies, theoretical classes, etc. with an emphasis on marketing and communications.
In addition to the programs listed above, a number of universities offer online courses and blended programs to suit the convenience of the student.
Top Universities of South America/Latin America
The best universities one can opt for while in South America include-
University of Sao Paulo, Brazil
State University of Campinas, Brazil
Pontifical Catholic University of Chile, Chile
Federal University of Rio de Janeiro, Brazil
University of Chile, Chile
University of Buenos Aires, Argentina
National Autonomous University of Mexico, Mexico
Federal University of Minas Gracias, Brazil
UNESP, Brazil
University of the Andes, Colombia
Popular Study Destinations in South America
South America, out of most other international student destinations, is not a popular choice to many due to various reasons. Though this is the case, a few cities in the continent have internationally acclaimed universities where students from all over the world come to. A few of the very popular countries with a decent number of international students include-
Argentina
Argentina
is a country that has one of the largest Spanish-speaking populations in the world. It is the perfect mix of rural and urban centers making it an ideal ground for students to explore. It is a popular place for studying social sciences, food & technology, earth sciences, etc. The country has a rich indigenous heritage along with other Spanish influences. It is one of the better locations for one to learn complex politics, history, culture, etc of Latin America. There are over 40 national universities and 45 private universities in the country along with other higher educational institutions that one will be able to choose from.
Brazil
Brazil
is one of the most popular countries in South America among international students. It is also one of the fastest emerging countries in the world due to the natural resources it holds and the highest cash crop exports they maintain every year. The best fields of study one can choose from include odontology, medicine, biology, veterinary medicine, and even dermatology.
The Amazon Forest that is located here is an ideal destination for those interested in studying ecology and wildlife while cosmopolitan cities offer courses in management that specializes in emerging economies. CAPES is an agency that provides information about different courses in Brazil and grants scholarships. There are over 2,600 educational institutions in the country.
Chile
Chile
is one of the more politically stable countries in South America alone with different natural attractions. The country offers better professional programs like an MBA along with research programs at the doctoral level based on the field of study one has chosen. The most commonly chosen subjects here include political science, economics, and Hispanic studies. Among the foreign students here, 82.7% opt for Master's courses while 17.3% opt for Ph.Ds.
While the MBA course at Universidad Catolica de Chile Business School is ranked second best in the entire continent, the university is regularly featured among the top universities in the world. Other famous universities include Universidad Catalica de Valparaiso and Universidad Austral de Valdivia. Some programs in Chile are provided in partnership with other universities from North America and Europe, allowing a diverse exposure to students.
Ecuador
Ecuador
is a country located in the north-western part of South America. It has a diverse topography with the coastland, highland, interior lowlands, jungles, etc. This country is not extremely popular among international students since a majority of the educational programs offered here are in Spanish. But if candidates are willing to learn the language, they will have over 70 universities to choose from. The most popular field of study here which also has international acclaim is Latin American studies. The economy here mainly thrives with oil and agricultural exports.
A few of the top universities here include Escuela Politecnica Nacional, Universidad del Azuay, Universidad de Cuenca, Universidad del Pacifico, etc.
Colombia
Unlike most countries in South America,
Colombia
is a relatively popular international study destination, mainly for programs in engineering, Latin American studies, environmental studies, medicine, etc. Most of Latin America's best institutions are located in this country including the National University of Columbia, Universidad del Norte, Universidad de Los Andes, Universidad del Rosario, etc. This country has over 288 higher educational institutions offering more than 9,000 university-level programs.
Life and Living in South America
South America offers international students a wide variety of cultural traditions and practices mostly linked to the indigenous tribes that live here. The strong cultural influences often date back to pre-Colombian times and well before the Spanish and Portuguese colonists arrived. This can be a learning experience for anyone interested in Latin American studies. The link to ancient cultures is often reflected in their popular culture along with their cuisine and architecture. They have strong religious influences which are not limited to Catholicism but also spreads to folklore and paganism.
The most commonly spoken language in this continent is Spanish though it is quite unlike the use of the same language in Spain. The second most popular language on the continent is Portuguese. Tourism is one of the major sources of income here with the largest and most popular countries being Brazil, Chile, Argentina, Bolivia, Peru, and Venezuela. It is also one of the most affordable places for international students which is one of the reasons for its increasing popularity.
Cost of Living in South America
South America is one of the most affordable international study destinations. While a few of the most popular cities here can be relatively more expensive, the expense will still be lower than the average living expense in the US. Students will be able to get into affordable programs if they enroll in public universities whereas private universities will have a higher tuition fee based on the program one has applied for.
Among the countries here, Uruguay has the highest cost of living index whereas Colombia has the lowest. The cost of living will also be dependent on the city the candidate is moving to with student localities offering the cheapest options.