Last Updated: November 01, 2021
Life and Living in New Zealand
In the southwestern part of the Pacific Ocean lies an island country called New Zealand. It is known as 'Aotearoa' by the Maori community. New Zealand is broadly categorized into two main regions, namely North Island also called Te Ika-a-Māui, and South Island also called Te Waipounamu. Wellington is the capital of New Zealand, whereas the largest city (based on population) is Auckland. Just like Australia, New Zealand also experiences hot summers from December to February, and winters in the months of June, July, and August.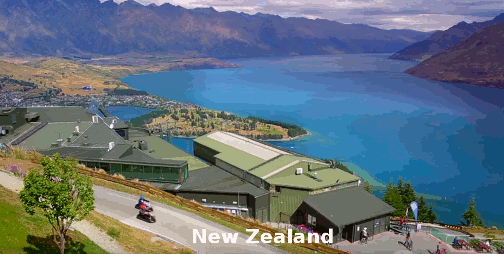 Living in New Zealand, whether for study or work, is a truly legitimate choice as the country offers an elevated quality of life and multiple opportunities for prodigious economic progress, especially in the contemporary socio-economic climate. There are a lot of good reasons as to why one should choose New Zealand to be the place to dwell in. But is it financially feasible and an obvious rational choice? The cost of living in New Zealand is deemed to be cheaper than in other economic giants, especially in the western world. The relative affordability of goods and services is such that most international students, workers, and immigrants are immensely appreciative as it allows them to maintain a standard of living that may be impossible elsewhere.
Languages in New Zealand
New Zealand is a culturally diverse island country that has people from various regions. People from different races and ethnicities such as Europeans, Maoris, Asians, Pacific Islanders, and more, peacefully coexist here. English, Te Reo Māori, and the New Zealand Sign Language are the official languages of New Zealand. However, English is the most widely spoken language in this country. English spoken in New Zealand is different from British English but is extremely similar to Australian English. The English language spoken here has a distinct style of pronunciation, vocabulary, and accents, and is called 'New Zealand English'. Hindi, Mandarin, French, Cantonese, and German, are a few other languages spoken by a minority in this country.
Cost of Things in New Zealand
Food and Groceries
Most food and drink are produced locally in New Zealand. These food products are marketed locally too. Milk and beef are two important staples in the country's local production. Poultry products, different kinds of seafood, and lamb meat are reasonably priced. Water in New Zealand is fresh and clean, but one also has the option to purchase locally produced bottled water. There are also seasonal fruits and vegetables which can be bought wholesale at very low prices.
Food products in New Zealand are available in groceries, supermarkets, community vendors, and delis. To exemplify the cost of food in New Zealand refer to the following examples, which should serve as a basis for estimating total costs on grocery items: Milk (1 liter) $2.00 to $4.00, White Bread (500g) $2.50 to $4.00, Wine (1 bottle) $10 to $25, Eggs (1 dozen) $4.00 to $9.00, Bottled Water (1.5 liters) $1.00 to $4.00. The basic monthly cost for groceries for an average family here will be around $1,800. To make grocery shopping more pocket-friendly, one can also visit discount stores such as Countdown, New World, Fresh Choice New Zealand, SuperValue Foodtown, and PAK'nSAVE.
Cost of Other Commodities
Clothing and accessories are available at different rates. One must note that New Zealand is popular in manufacturing several clothing products which are available in most department stores. Usually, the prices of clothing and footwear in New Zealand vary greatly. The following items usually cost (on an average): Jeans- $60 to $160, Rain Jacket- $40 to $400, Formal shirt- $30 to $130, Pair of Shoes- $100 to $250.
One has a large number of choices when it comes to clothes and footwear in the country. Global clothing Multinational Companies (MNCs), such as Adidas, H&M, Topshop, and Nike have stores in large cities. These are complemented by many New Zealand-owned local businesses and department stores. Also, interested parties can look up ethnic handicrafts and garments from specialty stores. Usually, an average person in New Zealand spends more or less $325 a month on clothing and accessories.
Other common costs include gym memberships, which are about $40 to $100 per month, or cinema tickets, which cost $14 to $22 per seat. In buying and using these services, there is a high value-added tax of 13%. The tax is already included in the market costs of these goods and services.
Based on various surveys and the information above it is apparent that New Zealand is one of the finest places to live in the world. It offers a great degree of cultural diversity, high quality of life, plus a very affordable cost of living. Ostensibly, if one is armed with the required knowledge and information, New Zealand is a very attractive proposition for those who wish to avail of these qualities as part of their daily living experiences.
Living Expense in New Zealand
Housing Costs
The cost of a house in New Zealand is about the cost of a single apartment in the UK. As is the case in most countries, the cost of renting an apartment or a house can vary immensely depending on the location and area in which the aforementioned apartment/house is. Usually, such places in the countryside have a lot lower prices for housing. However, housing cost in cities is also not unattainable and often border on the reasonable. One must always keep a lookout for a property that is located centrally, with plenty of amenities, and which charges a reasonable monthly or weekly rent. For comparison, the average rent of a 2-bedroom house in Auckland can be around $550 per week and the price of a similar place in Manukau will be less than $500 per week.
There are a variety of apartment rentals and homes at very reasonable rates all over New Zealand. The government is also active in supporting immigration making it easy for everyone, including an international student who wants to take a degree in top universities in New Zealand, to find the perfect home and apartment rentals suited for their budget. One can consult a variety of websites and apps to find an apartment ideal for their specific use-cases, one such website is trademe.co.nz. Apartment rates usually cover utilities like water supply, electricity, and gas consumption. Students wanting to rent an apartment can ask a friend to share it as that would, of course, lessen the cost.
Education
One of the best things New Zealand can offer is education. Education costs for all public schools are subsidized. Colleges and universities also offer a lot of grants to interested students. Public schools may range from $40 to $400 per year, private schools will cost around $15,000 to $25,000 per year. Books (school level) and stationery products for a year will cost a student the estimated amount of $80 to $250.
Healthcare
New Zealand has a public healthcare system that is largely publicly subsidized and often smaller health-related costs will be covered by this system free of charge. However, if one chooses to avail private or third-party healthcare providers, there may be charged a regular fee.
One automatically qualifies for subsidized healthcare if they are recognized as a citizen or a permanent resident by the government. Also, people who hold a work visa that is valid for at least two years (from the time of arrival) can qualify. Children (under 17 years of age) of people who are eligible and meet the above mentioned qualifications will be also covered by the government public healthcare plan.
If one is on a work visa that is for less than two years, they will need to pay for their healthcare, both public and private, in case it is required. However, most costs of injuries from accidents are covered by another publicly funded healthcare scheme called the accident compensation scheme, called ACC. This should be immensely helpful for those who cannot afford private healthcare, most importantly students.
A regular visit to a doctor usually costs around $80 to $180 for adults. Similar visits for children under 13 are free of cost. A check-up with a dentist typically costs around $70 to $100. Over-the-counter prescription, generic drugs will often set the buyer back by less than $5.
Currency Conversion
The official currency of New Zealand is the New Zealand Dollar (NZ$). The denominations for coins have values of 10, 20, and 50 cents, $1, and $2, and the denominations of banknotes include the values of $5, $10, $20, $50, and $100, respectively. The currency conversion to US$ would be at a rate of US$1 equal to NZ$1.40. There is generally no such limitation with regards to the amount of international currency brought to and taken from New Zealand. However, in case one has an amount of more than NZ$10,000, they will have to go through a procedure via Border Cash Report.
Things to do in New Zealand
New Zealand is extremely popular for its extraordinary natural wonders, and several varieties of flora and fauna that inhabit the country's diverse landscapes. Traveling and exploring New Zealand will be a blessing for all nature lovers as well as adventure seekers.
Places to Visit in New Zealand
Some of the major and most popular cities in New Zealand are:
Auckland: With a population of about 1.72 million, Auckland is the largest city in New Zealand in terms of population. This is a beautiful city situated in the North Island, and is popularly called the "City of Sails". Some of the popular tourist attractions in this city are Sky Tower Auckland, Auckland War Memorial Museum, One Tree Hill, Auckland Art Gallery, Waiheke Island, SEA LIFE Kelly Tarlton's Aquarium, and a lot more.
Wellington: This is the capital city of New Zealand and is located in the North Island. The city is known for being vibrant, and culturally and artistically diverse. The top tourist destinations one must visit in this city are the Museum of New Zealand Te Papa Tongarewa, Wellington Museum, Wellington Botanic Garden, ZEALANDIA Ecosanctuary, Katherine Mansfield House & Garden, City Gallery Wellington, Princess Bay, and so on.
Christchurch: This city is said to be the largest in South Island, New Zealand. Due to the presence of abundant gardens, parks, and greenery surrounding the city, Christchurch is popularly called the "Garden City". Some of the best sightseeing places in this city include Christchurch Botanic Gardens, Avon River, Port Hills, Hagley Park, Bridge of Remembrance, Victoria Clock Tower, and more. One must also make sure to try the TranzAlpine Train journey to get a glimpse of the best of nature.
Tauranga: This is a beautiful city which is a popular tourist destination for some of the best views it offers, especially for its beaches. Some of the most fascinating attractions in the city are White Island, Waihi Beach, Kaiate Falls, McLaren Falls Park, Mt. Maunganui, Pāpāmoa Hills Cultural Heritage Park, Te Puna Quarry Park, Omokoroa Beach, Papamoa Beach, Anzac Bay, and several others.
Cuisines to Relish While in New Zealand
People who are true foodies would definitely want to try out the exquisite food items available in this country. Considering that the country accommodates people of different cultures and nationalities, there will be several food outlets where one can discover not just traditional New Zealand food, but also delicious options for international cuisines. Variety and taste will always be there regardless of the food being ordered from a classy restaurant or from the local shops. Some of the must-try delicacies out here are:
The fruity dessert Pavlova, which is also available in Australia
The traditional and flavorful Maori Hangi
A wide range of Giapo Ice Cream
The crusty Kiwi Meat Pie
Whitebait Fritter, a delicious fish and egg white mix
Kina, a traditional dish made of sea urchins
The yummy chocolate balls called Jaffas
The warm Possum Stew
Delicious Lamb Chops
Popular New Zealand sweet potato, Kumara
Festivals to Attend While in New Zealand
The best way to learn more about the Maori culture in New Zealand, or other stories, or myths, is to be a part of the famous festivals celebrated here. One will not just learn but also get to enjoy and discover new food, music, people, and the energy of New Zealand. Some of the famous festivals celebrated here are the Pasifika Cultural Festival, Rhythm & Alps music festival, the Auckland International Buskers Festival, Parihaka Peace Festival, Māori Kai Festivals, Hokitika Wildfoods Festival, the WOMAD Festival, Crankworx Rotorua Mountain Biking Festival, and several others.
Commuting to Places in New Zealand
Transportation in New Zealand is largely free of any effort with a public system consisting of buses, trains, and airports, which are very efficient, systematic and sufficiently updated, and modernized. Public transit may usually cost around $4 to $10 per ride. Cars are a common means of daily transit in the country. Many people, especially students, buy their cars second-hand. Trade Me Motors is a good place to start if one is interested in buying a second-hand, arming potential buyers with essential information such as car rates, plans, registration, etc.
Aside from the cost of a vehicle, there are numerous costs of which the prospective buyer should be aware of including the cost of vehicle registration which will depend on the age and make of the vehicle. All cars also need to be tested for a Warrant of Fitness to ensure they are safe to drive. Cars usually have to be registered annually and similarly, the warrant of fitness usually has to be renewed annually but may differ based on its age. An average second-hand car will cost from around $25,000 to $40,000. Car registration will cost around $100, depending on the make and age of the car. A Warrant of Fitness usually costs around $50. Car insurance is quite expensive and complete coverage will often cost around $500 per year in premiums.
Entertainment Options for Students in New Zealand
The experience of traveling and exploring the beauty of the island country of New Zealand is nothing less than magic. It is an ideal place to fulfill all the fun activities that one has on their bucket list. Sandboarding on the sandy dunes of the Ninety Mile Beach, boating and kayaking on the beautiful water bodies, going on long drives, hiking, trekking, bungee jumping, stargazing, swimming with dolphins, are some of the most fun things to do here. New Zealand also houses a number of stunning tourist sites such as:
Bay Of Islands
Tongariro National Park
Fiordland National Park
Lake Taupo
Rotorua
Coromandel Peninsula
Fox And Franz Josef Glaciers
Abel Tasman National Park
Mount Cook National Park
Kaikoura
Milford Sound
Whakarewarewa Geothermal Valley
Waitomo Glowworm Caves
Safety Concerns for International Students in New Zealand
Given that New Zealand is known for the peaceful coexistence of people from several cultures and ethnicities, it is evident that the country is a safe haven for people living there as well as for international students coming here to pursue education. According to the 15th edition of the Global Peace Index (GPI), in 2021, New Zealand holds the 3rd position globally for being the safest and the most peaceful country in the world. Apart from low crime rates, the country does not even have a lot of dangerous insects or reptiles such as snakes or scorpions. However, students should stay alert and careful in every possible way and know about basic safety measures.
In case of an emergency, students can avail the Police, the Fire Service, Ambulance, or Search and Rescue Services by dialing the toll-free number 111.
When traveling by car, one must always wear a seat belt, and not overspeed.
Learn about the traffic rules and follow them diligently.
Do not carry all valuables, excessive cash when traveling. keep it safe at home.
Familiarize with the routes, and landmarks of the destination beforehand to avoid confusion while traveling.
When going out, one should lock all doors and windows of their home.
Avoid traveling alone late at night, especially in areas that are isolated and are not properly lit.